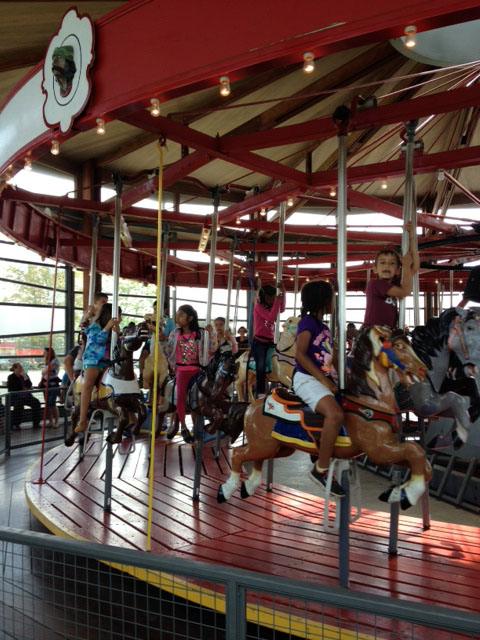 The Carousel will be open effective April 2nd, 2021 during regularly scheduled hours.
Tickets may be purchased at the Marina Office.
All existing COVID protocols will be followed.
CAROUSEL
Jess Owen Carousel House
Mitchell Park, Greenport, NY
OVERVIEW:
• 100 Years Old
• Open Daily In Season
• Open Weekends In Off Season
• $2.00 Per Ride
• Gifted From Grumman Aircraft Corp.
BROCHURE
CAROUSEL HOURS -
Last ride is 15 minutes before closing
SCHOOL CLOSING THRU LABOR DAY WEEKEND
OPEN EVERY DAY - 10:00 A.M. TO 9:00 P.M.
LABOR DAY - 10:00-6:00
LABOR DAY THRU COLUMBUS DAY WEEKEND
FRIDAY EVENING - 4:00 TO 9:00
SATURDAY - 10:00 TO 9:00
SUNDAY - 10:00 TO 6:00
COLUMBUS DAY - 10:00 TO 6:00
COLUMBUS DAY THRU NOVEMBER 30TH
SATURDAY & SUNDAY - 10:00 TO 6:00
CLOSED - THANKSGIVING DAY
DECEMBER 1ST THRU EASTER
SATURDAY & SUNDAY - 11:00 TO 5:00
CLOSED - CHRISTMAS DAY
NEW YEARS DAY
EASTER SUNDAY
EASTER TO MEMORIAL DAY WEEKEND
SATURDAY & SUNDAY - 10:00 TO 6:00
CLOSED - EASTER SUNDAY
MEMORIAL DAY THRU SCHOOL CLOSING
FRIDAY EVENING - 4:00 TO 9:00
SATURDAY - 10:00 TO 9:00
SUNDAY - 10:00 TO 6:00
MEMORIAL DAY - 10:00 TO 6:00
THE CAROUSEL IS OPEN FOR ALL GREENPORT SCHOOL HOLIDAYS EXCEPT WHERE NOTED
MAYOR
GEORGE W. HUBBARD, JR.
Ext. 215


TRUSTEES
JACK MARTILOTTA
DEPUTY MAYOR

PETER CLARKE

MARY BESS PHILLIPS

JULIA ROBINS


VILLAGE ADMINISTRATOR
PAUL J. PALLAS, P.E.
Ext. 219


CLERK
SYLVIA PIRILLO, RMC
Ext. 206


TREASURER
ROBERT BRANDT
Ext. 217